Please watch this short video
Here is a short 4-minute video showing as concisely as possible our vision for Africa. Feel free to share or get in touch for more information.
An Open and Honest Letter - 8th Jan 2022
I would like to ask you to stand with us in prayer at a difficult time.
It is wonderful to write these newsletters when Iím giving glory to God for the latest victory, or amazing things God is doing.
Sometimes however we go through testing times and I believe the Lord would have me share a little about that, so that you can pray with us. ... more >>
Bibles for Malava Church, Kenya - 9th Jan 2022
Here are some of the new believers in the Malava church plant receiving bibles in both Swahilli and English. We bought 55 all together, praise God for changed lives.
Kenya Tent Mission - At Lake Victoria - 14th Dec 2021
Eldoret Tent Mission Kenya - The Dramatic End - 12th Dec 2021
A dramatic and fruitful end to a great week in Munyaker Eldoret.
Eldoret Tent Mission - Without the Tent - 12th Dec 2021
<!- added 12th dec 2021 -->
Eldoret Tent Mission - The Future - 11th Dec 2021
Eldoret Tent Mission - Open Air event - 11th Dec 2021
When the devil destroys your tent
Set up camp in his back yard and preach the Gospel!
God will be glorified
Tent Mission Tent damaged by strong winds - 11th Dec 2021
Please keep us in your prayers.
The incredibly fruitful tent is now in pieces and we will be facing
a lot of repairs ... more >>
The Testimony of Mercy - Eldoret Mission, Kenya
Muslim people coming to Jesus at the Eldoret Mission, Kenya
Richard and Abraham have given their lives to Jesus, Abraham was a Muslim.
Mercy set free at the Eldoret Tent Mission, Kenya
Mercy was "drunk as a skunk", and full of demons and the Lord set Mercy free
Eldoret Tent Mission Kenya - Amazing Testimony - 10th Dec 2021
Today we saw something special, that should be shared to give glory to God.
We were asked to go and pray with an elderly lady who had a stroke 3 months ago. She had been left totally paralysed down one side and lay slumped over to one side on the bed. It was the mother of the lady who is hosting us here in Eldoret ... more >>
Eldoret Tent Mission Kenya - 9th Dec 2021
Eldoret Tent Mission Kenya - Testimony - 9th Dec 2021
This lady in the hat came to the tent last night and was delivered of demons as well as receiving salvation.
She has brought her friend to the tent today to also find freedom in Jesus. He gave his life to Christ too Hallelujah ... more >>
Eldoret Tent Mission Kenya - Second Evening - 8th Dec 2021
Remember the demon possessed lady from last night, she came tonight with her 4 children. She is utterly transformed. Yesterday she was fighting four men off, today gentle as a lamb filled with Jesus ... view video >>
Eldoret Tent Mission Kenya - First Evening - 7th Dec 2021
Wow tonight was hard. We knew very early that the ground was hard and unplowed we went into the enemies camp a little unprepared
This certainly is a stronghold for demons.
We spent over an hour ministering to one woman who was full of demons which took complete control of her and spoke to us.
When we called them out they refused. They said we have a right, we will not go we have been sent to sacrifice this one and you are next ... more >>
Eldoret Tent Mission Kenya - Steve and Alex arrive in Eldoret - 6th Dec 2021
Celebration Service and The Final Night of Malava Crusades! | Kakamega, Kenya
Highlights from the last night in Malava
You are the Most Important person in the universe | The Lost Sheep
You are the most important person in the universe. Find out why
Malava Tent Mission Kenya - Steve Pilkington Preaching - 5th Dec 2021
Malava belongs to Jesus. Police officers receiving Jesus Christ. Parable of the Lost Sheep.
Malava Tent Mission Kenya - International Faith Church - 5th Dec 2021
The official launch of a new church in Malava Kenya.
This place was heavily bound by curses, witch craft etc.
People have been born again, delivered healed and are here to celebrate the beginning of their new church... International Faith Church Malava
Malava Gospel Crusade Night 4 | Kakamega, Kenya
Highlights from a night in the Malava tent meetings
Malava Tent Mission Kenya - Healing in Jesus' Name - 4th Dec 2021
(1) Juliet healed from Bleeding, Fibroids. Totally healed in Jesus' mighty name!
(2) Alex preaching at Malava - This has become Holy Ground, A Place where God has opened Heaven...
(3) Celebration at Malava - Ever wondered what celebrations are like in Heaven when people find salvation?
Eldoret Tent Mission Kenya - The Publicity Team - 3rd Dec 2021
The team in Eldoret are continuing to do a great job in publicity and preparations for the next crusade starting Tuesday ... more >>
Malava Tent Mission Kenya - The Hold of Witchcraft Broken - 3rd Dec 2021
The hold of witchcraft is being broken in Malava. Tonight we only needed to worship and demons manifested.
People were saved, delivered and healed. Hallelujah ... more >>
Malava Spirit Baptism - 3rd Dec 2021
Malava Tent Mission Kenya - Africa knows how to Worship - 2nd Dec 2021
Lively worship at the Malava Tent Mission, Kenya. Ever been so happy you dance with a chair above your head... Africa knows how to worship.
Malava Tent Mission Kenya - Around Malava - 2nd Dec 2021
Meeting the locals on the streets of Malava, Kenya and inviting them to the evening Tent Mission... well not all the locals see second video.
Eldoret Tent Mission Kenya - The Publicity Team - 1st Dec 2021
The wonderful team in Eldoret are busy doing publicity for next weeks mission
Malava Gospel Crusade Night 1 | Kakamega, Kenya
Malava Tent Mission Kenya - First night - 1st Dec 2021
The first night was not very full in the tent but wow God moved in power.
We saw at least 36 decisions for Christ plus a very powerful time as many were baptised in the Spirit ... more >>
Malava Gospel Crusade - Preparing for the evening meeting
Worship team getting ready for the meeting tonight
Erecting The Tent For Malava Gospel Crusade | Kakamega, Kenya
Malava Tent Mission, Kakamega, Kenya - 30th Nov 2021
The church that is being launched through the tent mission this week in Malava. Setting up the Tent for the Malava Tent Mission
The buzz is building as the tent takes shape and publicity goes out. Bring everyone to Hear the Good News. Bring the sick in Jesus name.
An Effective Crusade Tool - 29th Nov 2021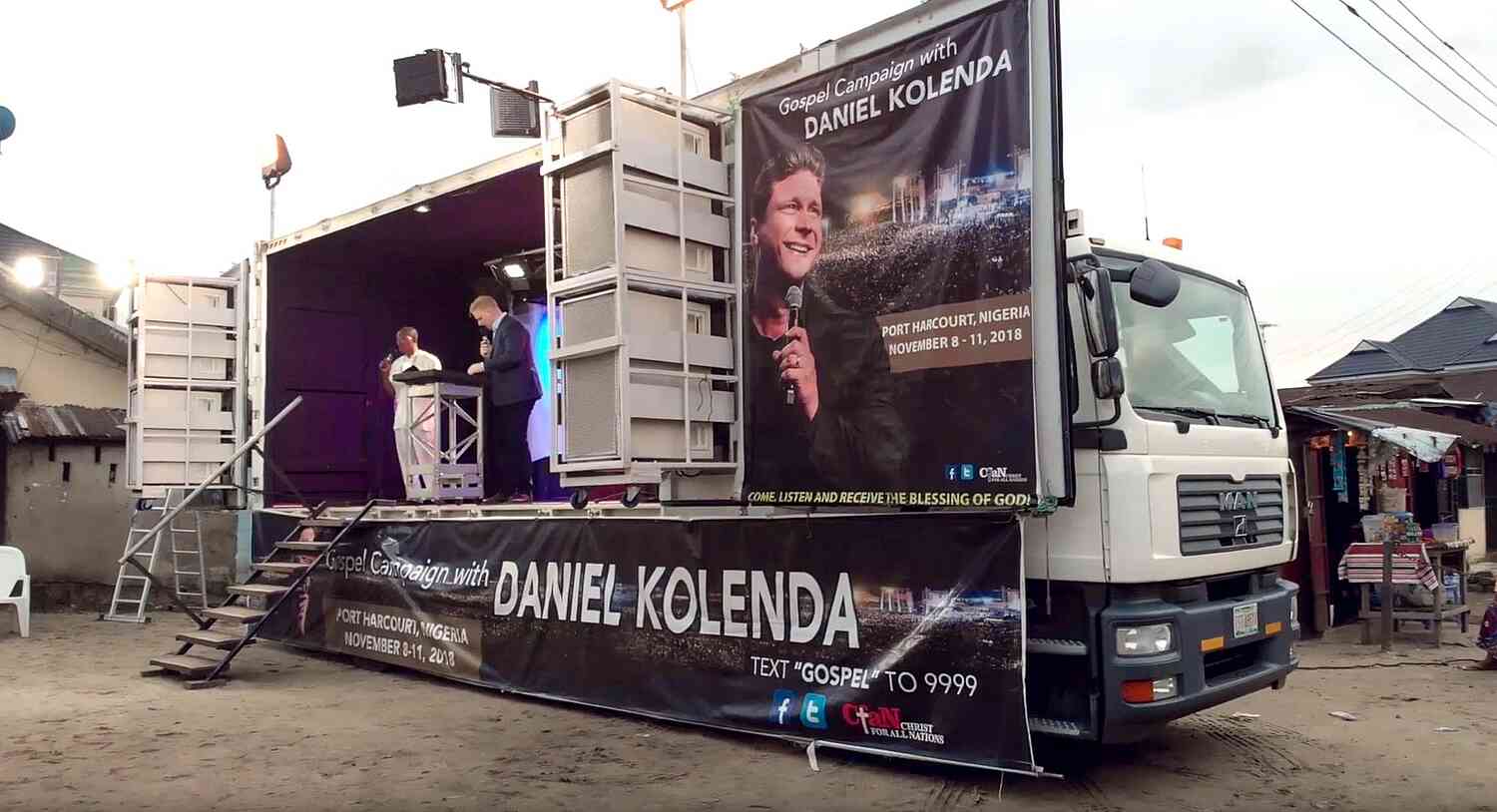 Join us in praying the God will give us every tool needed to preach the gospel to millions in Africa, as our crusade work expands. Picture as an example
What Steve has to say click here >>
Image credit: Christ for All Nations
Kakamega - Car repairs - 29th Nov 2021
Problems with the car dealt with on the street in Kakamega, Kenya. A great idea, how to modify a lorry for mission crusades (video 4).
Kakamega - Sunday morning - 28th Nov 2021
Videos from the Sunday morning services at Kakamega, Kenya.
Kenya Mission - Update 1 - 26th Nov 2021
We made it to Kenya without a problem - Our first answer to prayer.
We made it to Kenya without a problem - Our first answer to prayer First answer to prayer
We asked to pray that we would be able to get the PA system through immigration without paying import tax.
I was stopped by a very angry man who didnít want to let me through ... more >>
Gospel Thoughts - The Door is Open - Matthew 13
Kenya Mission - Getting Ready - 26th Nov 2021
Getting Ready - Preparing the Ground.
The men are hard at work preparing the crusade ground in Eldoret. We begin the tent meetings there on 7th December. Please keep praying ... more >>
Kenya Mission - Recuperation Day - 25th Nov 2021
At Hippo Bay at Kisuma on Lake Victoria.
Fish Dinner/supper, watch it cook, Praying with Lameck and catching a lift home in a Tut Tut ... more >>
Kenya Mission - Answers to Prayer - 23rd Nov 2021
We asked to pray that we would be able to get the PA system through immigration without paying import tax.
I was stopped by a very angry man who didnít want to let me through. I said that I need all of this equipment to preach the Gospel in Kakamega. He said if this is true who are you connected with ... more >>
En-route to Africa - 22nd Nov 2021
Next stop Amsterdam on route to Kenya
Africa shall be saved!
Thoughts from the Study - Acts 2 Verses 1-4 - The Coming Of The Holy Spirit
Thoughts from the Study - Acts 2 Introduction - Why Is This Chapter Important?
Intercessors Please Stand With Us - Posters - Final Intinerary - Preparations - 15th Nov 2021
Posters and final itinerary - please pray we leave in one week! God will do great things!
May I thank you sincerely for this most valuable help and support. John Wesley once said God does nothing, except through prayer. So we thank you and bless you. To pray for these missions is truly the greatest gift anyone can give. The Lord gave me a prophetic dream a few days ago, and to cut a long story short, God revealed the key when He revealed the people of prayer. Bless you all! ... more >>
Bishop Raphael - A very short word - 10th Nov 2021
A short word from our African director, Bishop Raphael Baluma, and Pastor Kennedy.
We will be helping plant a new church via a tent crusade in December ... more >>
Pastor Simon Video - 8th Nov 2021
Pastor Simon shares his heart for a few minutes regarding the upcoming mission to the slums of Eldoret, Kenya.
Leaving in 2 Weeks - Please pray ... more >>
Strategies for Prayer - 4th Nov 2021
Targeted prayer and Specific words from God!
Malava Crusade 1st - 5th December 2021. Malava is renowned for itís connection with witch doctors and traditional witch craft. Last time we went to Malava we faced strong opposition, and saw wonderful results ... more >>
Final Preparations - 3rd Nov 2021
Plans are in the final stages, please pray for an increased harvest
Flights are booked!
We leave for Kenya on 23rd November! Yes only 3 weeks to go!... more >>
The Parable of the Sower
Praise Update - 22nd Oct 2021
Just a short note to give God praise for answered prayer!
Many of you know we have been asking for prayer to get a registered charity in Kenya. We thought it was sorted a few months ago but we faced various delays.
Often these things can take years in Kenya!... more >>
Going back to Africa Soon! - 19th Oct 2021
Upcoming Missions Itinerary - Please Pray With us
Here are the dates and plans for the upcoming missions trip to Kenya. Please join us and pray for each stage if you can.
24th November - Fly from Manchester to Nairobi, then on to Kisumu the following day. It takes around 24 hours and can be really exhausting... more >>
Thoughts from the Study - Acts 1 pt2 The Ascension
Thoughts from the Study - Acts 1:1-8
Thoughts from the Study - The Ethiopian Eunuch
Thoughts from the Study - Living by Faith
Thoughts from the Study - Learning how to Pray
Where Did All the Money Go? What Have We Done? - 4th Oct 2021
6 Months have passed since we went public with the big tent vision! - What have we done? Where did the money go? Have we achieved our goal?
6 Months ago God said launch out into the deep. And, wow we did, everything has changed for sure!
As you will know, God has told us to take a huge tent and in the future, stages etc, and preach the gospel. Our vision is for the continent of Africa, and we believe God told us weíd see a million souls saved! ...
more >>
Going back to Africa Soon! - 26th Sep 2021
Going back to Kenya in November!
Please join us in praying for a great harvest. We are delighted to announce that God has commissioned us to go back to Kenya this year in November!
We are going to do two tent crusades, and pastors conferences over a three week mission.... more >>
One Thing! Vision Day - 13th Sep 2021
I was invited to speak about the vision of Operation Hope and what God has been doing this last year.
The meeting was in Newbold Community Church, Rochdale. A huge thanks to all at the church for receiving us so well (Click below for video recording)... more >>
Church Visits - 9th Sep 2021
God is doing amazing Things! Could we come and show you?
God is continuing to amaze us with all the wonderful ways He is out working His vision for Africa! God has laid it on our heart to get out and share this vision! ... more >>
PA Equipment for Kenya Tent Missions - 9th Sep 2021
Little 250 mile trip today to collect our 3000 watt PA system and add it to the container for Africa.
Trevor who kindly took it and held it for us, said the ground literally shook when it was tested. Soon this huge tent and PA will go to Africa... more >>
Life of a Disciple and Child of God
Mountain Top Thought - The Lord's Prayer
The field in Eldoret - 4th Sept 2021
Some pictures of the field in Eldoret that you have helped us rent. This year it has been planted with, Beans, carrots, peas, onions, carbadge, sukumawiki, spinach and potatoes.
It gives some work to those in need, vegetables to those who need it the most too... more >>
Updates Prayer Requests and Vision Days - 2nd Sept 2021
Updates on the prayer requests & Vision days
Thank you all for your continued prayers. I just wanted to touch base and let you know where things are currently, regarding the prayer request weíve sent out. Also to share about our vision days!... more >>
Hope is Starting Again 28th Aug 2021
It has been such a long time, butÖ
The house of prayer meetings are finally starting again. Weíve missed our times of fellowship for sure. Weíve been waiting to get access to the village hall and or to rent a room suitable for the gatherings. Sadly due to ongoing covid outbreaks this still hasnít happened... more >>
Thank You For Praying! 8th Aug 2021
He is so faithful!
Wow, that was a stressful journey I have to admit. There is no way we should be home by now. Travelling to a red list country is not recommended if you want to be able to return home. But God said go!... more >>
We are here in Amsterdam! 26th Jul 2021
Thank you so much for all your prayers, we hope to be home by 5th August
Testimony - God makes a way where there is no way!!! We had planned to go to Cyprus to see out the quarantine time before heading home. But the night before we left, Cyprus refused our girls entry due to a lack of vaccines which they are too young to have... more >>
A potential new base for Operation Hope in Kakamega, Kenya
A change of plans and feedback 21st Jul 2021
When we arrived in Eldoret we hoped we would be able to plan and execute 3 separate tent mission in 3 weeks. It was an ambitious plan, as you may be aware that a successful tent mission requires a lot of planning and preparation.
We had to rely on some local pastors to plan when they havenít had experience in this sort of thing. This sadly has resulted in these latter meetings being postponed till next time... more >>
Sometimes we pray and they still die - Testimony - Jul 2021
Hope Church Eldoret, Kenya - 18th Jul 2021
Hope of Glory Church Eldoret, Kenya
Photographs and videos of our blessed time at Hope Church Eldoret, Kenya... more >>
Coming here in a pandemic was crazy! But God!
God clearly told us to come, He has evidenced it throughout. Now we are trusting Him to open a door for us to return. Kenya is on the red list and it would cost a total of £5450 to bring the whole team into forced quarantine. We cannot and will not do it... more >>
Operation Hope Tent Mission in Kenya Jul 2021
Meet my new brother in Christ ďBabuĒ
He came to the meeting completely deaf but as we prayed and spoke the name of Jesus into his ears he was healed. It seemed nothing happened at first but I was moved to speak the name of Jesus into his ears. There is power in the name of Jesus!
He then gave his life to Jesus!
He clung to his bible and danced before the Lord
Pastor Andy McCulloch preaching | Operation Hope Eldoret, Kenya
A wonderful start to our mission - 8th Jul 2021
A Day On The Operation Hope Tent Mission Team
This was the first day of our first tent mission in Eldoret. After setting up in the morning, we went house to house giving the gospel, praying for the sick and inviting people to the meetings.
We saw Salvations and healings around the homes! It was truly a blessed time, a whole household received Christ in one go. Then a great response in the tent too! One guy who couldnít walk too well was healed on a home visit and joined us in the evening pain free, praising God... more >>
This man is Ernest. He couldnít stand without his son holding him up. He had to walk with assistance.
He was healed, gave his life to Jesus, and has been at the tent walking freely and praising Jesus these last two days. Thank you Jesus!... larger photograph >>
This lady came to the tent asking for salvation and healing. She walked with a terrible limp from a very painful knee. God healed her and she walked up and down the tent freely.
She gave her life to Jesus and is looking forward to coming to the tent again tomorrow
God is Great!... larger photograph >>
In Kenya when people are born again they celebrate with the Angels. These people are so filled with Joy from Jesus there could only be a party that followed.
Tent Mission about to start, the team all together - 7th Jul 2021
Please continue to pray as the Gospel mission really gets going!
The tent is up, the team are ready and everything is organised. We will be taking the first meeting tomorrow. Mornings will involve home visits and general house to house evangelism.
Evenings will be the gospel meetings in the tent. We pray that God will convict, save, heal and restore as we trust Him fully... more >>
Operation Hope "Small tent" Eldoret, Kenya - 7th Jul 2021
Putting the tent up and Lauren and Andy arriving! | Operation Hope Eldoret, Kenya
Sticking to Godís plan | Sunday service - Eldoret, Kenya - 4th July 2021
Spreading flyers and putting up banners! - 2nd July 2021
Publicity work and One-to-One Outreach - 2nd Jul 2021
Grace made a little video of our publicity work and one to one outreach
Before a tent mission can go ahead, we first have to meet pastors, have breakfasts together encouraging unity.
Then we buy banners and posters advertising the campaign. These are literally put up everywhere, the community is saturated ... more >>
Another week of blessings - 30th Jun 2021
Our brand new 200 seater tent arrived safe and sound late on Wednesday. In order to pay the final payment we had to see the tent erected in our compound, which they decided to do in the dark! We had fun and games setting it up, although we didnít bother fitting the walls as it was 1am by the time weíd finished.
Itís a good tent for Africa and will do us proud as we go forward with the gospel. We have three tent missions booked over the next three weeks which is going to be a real highlight for sure. Please pray for salvations, signs and wonders ... more >>
Eldoret Revival - Eldoret, Kenya - 27th Jun 2021
Amazing scenes this morning in this precious little fellowship in Eldoret.
It seemed they must all be saved but God said to preach the gospel anyway.
We saw 10 salvations, words of knowledge leading to healings, and many other healings as we prayed for the sick. To top it off we had a great testimony from a lady who brought her son to our last meetings in 2019. He had kidney problems and she was worried for him. As we prayed he was miraculously healed and 19 months on is doing great! ... more >>
Eldoret Revival - Eldoret, Kenya - 26th Jun 2021
Great time tonight at the revival meeting. God was meeting with all ages passionately
The Church is being equipped and sent out! Watch out Eldoret!... more >>
Operation Hope Healing Crusade
Rev Simon and Pastor Rose Kibet, Evangelist Stephen Pilkington, Pastor Andrew McCulloch - Hope of Glory International Church Kenya
With Faith, Grace and Lauren - 8th - 11th July 2021
3 - 7pm each evening at the Munyaka Estate ... more >>
No Zoom meeting this Sunday
No Zoom this Sunday but we hope to be back on zoom in a week.
Have you considered subscribing to the ministry YouTube channel?
Have you considered liking the ministry Facebook page? ... more >>
Revival Meetings in Eldoret, Kenya
We started today our 5 Days revival meeting here in our church together with Evangelist Stephen Pilkington and together with Faith Pilkington and Grace Pilkington Operation Hope UK.
Revival!! Revival!! in Africa continent...... To be the glory Amen.
We ask for your prayers upon this great tasks ahead of us. Rev Simon Kibet ... more >>
God keeps doing more than we can think to ask
He surely does more than we think to ask! Why are we surprised! God is so good!
Every time I think about what God wants to do He shows me that actually His plan is for much more. My prayer is not God do this or that, but God do all that you will and donít let us get in the way.
We thought weíd be locked up in Quarantine for two weeks, God said no, Iíll give you great contacts and advice to bring the container over. Then Iíll give you an opportunity to preach my word on TV to 8 counties across Kenya!... more >>
Great news. Today we have placed the order for our second Evangelism tent in Kenya!
We are so greatful for all your prayers and encouragement. The mission is exceeding expectations so far as God does more than we think to ask.
We thought the first two weeks would be spent locked in a hotel room. Yet we have made great contacts, preached in Nairobi as well as on TV to 8 counties. We have made excellent progress trying to find the best way to register here in Kenya and to ship our container too.
And today we have paid the deposit and ordered a good sized tent. This tent is called the Small tent but only in comparison to our other one. It is the same size as the one we used to use in the UK. ... more >>
Prayer meeting - Zoom tonight
We will attempt a Zoom tonight at 7pm (Sun 20th June)
Tonight at 7pm we shall attempt to host a zoom meeting. If you normally join with us or wish to join in just use the usual log in links etc.
I canít guarantee to quality of our connections but it seems ok and we will give it a good try. ... more >>
First Week of Revival meetings due to start
Starting on Wednesday we have the first week of ministry
The Girls will be speaking at youth services which is a bold step for them. I am sure God will use them and bless them, but they appreciate your prayers for sure.
I will be taking the main meetings and believe God has promised to be there in signs, wonders and miracles. I am believing for an outpouring of the Spirit which will glorify God, save the lost and revive the church ... more >>
Prayer meeting - Zoom tonight
We will attempt a Zoom tonight at 7pm (Sun 13th June)
Tonight at 7pm we shall attempt to host a zoom meeting. If you normally join with us or wish to join in just use the usual log in links etc.
I canít guarantee to quality of our connections but it seems ok and we will give it a good try. ... more >>
The harvest is here
Thank you so much for your continued prayers.
God is so good, we are taking this time of quarantine to prepare for the harvest that is coming soon. I have been so blessed to spend quality time with my precious daughters, and see them moving forward. We have some youth services and Sunday school groups for them to preach at, please keep them in your prayers, they are in the deep end.
I am booked for two leaders conferences and a week of revivals over the next three weeks too. Also we have the opportunity to book and plan a series of very productive tent crusades, if God enables us to get the tent we need.... more >>
By Gods grace we made it!
Just a quick note for those who are praying for us
It has taken a huge series of divine appointments and miracles to get through the three airports under red list conditions.
But God has powerfully stepped in each time, and we are on African soil with permission to preach the gospel till August... more >>
Zoom time & Are we flying out?
Zoom needs to move times slightly & We are still planning to leave for Africa on Tuesday morning 8th June at 5am, God willing.
Greetings, I just wanted to drop a line to say a couple of things. We need to drive to Liverpool Sunday afternoon to take PCR tests in order to check in Monday night/Tuesday morning. I donít think we can get back home for 7pm.
I think we can make it for 8:30pm (Sunday) and intend to be online and starting the meeting then. If you can join us it will be great to see you before we go. The details are the same.... more >>
Flying out 8th June
Flying out on 8th June
Really appreciate your prayers for the next trip coming very soon and at short notice. After following Gods lead I intend to fly to Kenya on June 8th. Yes in just over 2 weeks! Yes I also know Kenya are on the red list too! This means I can go but it is uncertain when I can return.
The Lord has led us very clearly as a family at this time. And we are so very greatful of all the continued prayers. We believe the trip is for 3 weeks to do some essential preparation for the big tent going to Africa. I am trusting Kenya will be at least an amber country by the end of June... more >>
Shipping out the Tent Mission Tent to Kenya
One Step at a time... The Big Top Tent Mission Tent's journey to Mombassa, Kenya
Through generous donations received the Big Top Tent was bought in April 2021 and a shipping container for transport to and storage in Kenya the following month. The shipping container and tent are currently in North Wales.
Our next steps are to raise the necessary funds to ship the tent by sea from the UK to the port of Mombassa, Kenya and then by road across the country to our base in Eldoret which is in the west of Kenya. In addition we will need to purchase P.A. equipment, a lorry and pay Customs Import and Export fees in Kenya and the U.K... more >>
Prayer meeting - New Zoom Time
Just a quick note for those who like to join the zoom prayer meetings. We have a new day and time. Just a quick reminder that our zoom meeting is on Sunday from 7-8pm.
For those who want to pray together specifically to do with the big tent Africa vision.
Next zoom prayer meeting for Operation Hope is Sunday at 7pm for an hour but we wonít be disconnected if it goes over slightly... more >>
Operation Hope - A Momentous Day
Thanks so much for those who came last minute and helped, so grateful!
It was a truly momentous moment to see the huge tent being loaded into the shipping container that will take it all the way to Eldoret Kenya.
Faith is Substance! We have more things to buy and put in yet as well as the small job of imports and exports... more >>
Operation Hope - New Container Arrives
Give thanks to the Lord!
We are so blessed to be able to say that our brand new container has arrived and is securely stored. It is such a great provision and will offer safe dry storage in Kenya for years to come.
God is so good, plus the local person who has allowed it onto their land is not charging us rent. Praise the Lord! And thanks to them too... more >>
Operation Hope - Progress Report - Prayer Pointers
A short update on our progress for your appreciated and continued prayers.
Well a little over 8 weeks ago we went public with what felt like a ridiculous vision. Many times I felt myself saying to God are you sure! And wondered where on Earth would provision come from for such a huge undertaking.
Well we may not be there yet, but... We asked God to provide a tent for 3000 people and He has done it... more >>
Operation Hope - We got God's Big Top Tent
The yellow tent originally pictured and offered to us at a great price was removed from our grasp, price increased significantly and then sold to another buyer.
Of course this was confusing to begin with and required much prayer. The Lord spoke clearly to me that He was weaving things together perfectly. Then to Lisa, be still! So we did. Then....
God brought another tent to us, a circus big top. Itís not quite as big as the yellow one but bigger than I originally thought looking at pictures. Actually itís huge, as big as any circus tent used in the UK today! ... more >>
Operation Hope - Our Vision for Africa
God has told Operation Hope to buy a big tent, the one pictured in fact. A tent that could hold 3000 people and more with the walls removed. It is to be taken to Africa and kept in a base in Eldoret Kenya.
Then the team will take the tent throughout Africa preaching the Gospel, establishing the church and discipling the body of Christ. The Weather although hot in Kenya is often rainy and has been a hindrance to the open-air work in the past. A tent will be like a magnet to the lost drawing people from miles around... more >>
Wonderful Encouragement
Amazing encouragement and confirmation - God is so Good! What an understatement that saying is. Just want to touch base with a powerful confirmation and encouragement.
A week ago I shared our vision for rapid expansion in our tent crusade ministry in Africa. Well God is moving, He blew me away so wonderfully this evening...
more >>
Why do you need such a big tent?
People ask us...
"Why do you need such a big tent in Africa when itís so sunny and dry?"
Answer...
People donít realise over here
But in Kenya it rains so much! In short sharp downpours
Where we go itís, Every day in fact!
Short testimony from our last mission
Reinhard Bonkke said that whenever they went to places which are strongholds of witch doctors and witch craft they would face fierce opposition from the weather. Tents and equipment costing hundreds of thousands could be ruined. But thatís when you need to decide to either cut and run or stand and press on... more >>
Changes Ahead - Prayer Pointers
The dust is beginning to settle a little more since we shared the vision two weeks ago. We have some specific points and leading we need your prayer over. It is such a delight to know you are standing with us as a family and praying for us especially at this time.... more >>
Our Mission partners
| | | |
| --- | --- | --- |
| | | |
| Pastor Simon Kibet wanted to greet people and give a little feedback on his relationship with us at Operation Hope | | Welcome to Hour of prayer by Rev Simon Kibet senior Pastor Hope Of Glory Family Church International - Africa Kenya. |
Updates from Kenya
Before I update you on The continued works in Kakamega and Eldoret - Let me remind you about the trip coming up in August 2021
We intend to take our largest team yet to Kenya in August 2021. You could be on this trip if God wills it.
Watch out soon as you will receive an email with a PowerPoint style presentation letting you know where weíll be going and what weíll be doing. If you feel led to look into the trip further it will be followed up with a zoom gathering in February with opportunity for Q & A... more >>
Hope is coming back soon!
We Believe things are getting better, and are making big plans!!! Starting with Hope!!!
We have been prayerfully watching for some time. Forgive us for not getting online like so many have done. But.. we are excited that the time may be close to start meeting again.
In faith we are making plans, you will hear them in the coming days. However one firm date we can give you is the re start of the house of prayer meetings in Fairbourne. We plan to start meeting once we go down to alert level 3. We have found a new venue which we are excited about... more >>
What's the deal with Sin?
What's the deal with Sin? Good news from Psalm 51
A look at the background and content of Psalm 51
About us
Operation Hope is the ministry of Stephen and Lisa Pilkington
They have both been in ministry since 2007, Stephen graduated from Mission Bible School with a BA Hons in Theology and Missions. They have pastored churches, planted churches, hosted evangelistic and prayer based events around the country. They have been used in many other countries around the world in missions, leading thousands of souls to Christ, seeing countless miracles and healings as well as being privaliged to have set up an orphanage in Kenya. They are currently based in North Wales and are active in the region, believing God is about to move in a wonderful way.
Steve and Lisa firmly believe that all fruitful ministry should start with prayer, and is empowered by a lifestyle of prayer. Since 2008 they have been involved in and running Houses of Prayer everywhere, or Hope as it is known. Rather than making plans and asking God to bless them, it is their practice to seek God first, align with His plans and prayerfully partner with Him. Operation Hope is simply the outworking of all that God has commissioned them to do while in the House of Prayer.
Please take time to look through the different pages and see some of the activities they are currently involved in. God has been gracious to give Operation Hope all that is needed to bring tent missions and concentrated evangelistic events to your community here in the UK. Check the pages and contact us for more information. Stephen is available to visit churches to preach, inspire or offer strategic Kingdom training.
If you would like to invite Stephen to speak at your church about the Operation Hope Tent Mission ministry please submit your details on the Contact form >>
"Operation Hope" take the GOOD NEWS; the life transforming Gospel message of Jesus Christ to communities around the world through tent missions, open air evangelism and other forms of Christian Missions. We hope you find everything you need whilst looking through this site but if not please don't hesitate to CONTACT US
Credit: A330 of Corsair taking off by Daniel Eledut on Unsplash, Mśrsk_Mc-Kinney_MÝller Container ship Maersk Line/wikipedia, Free Earth 1 Stock Photo by Ten_a from FreeImages, Newsletter button by Pixaline from Pixabay, Free cash box Stock Photo by Stephen Henderson from FreeImages, Parable of the Sower Illustration by Good News Productions International and College Press Publishing from FreeBibleImages Creative Commons Attribution-NonCommercial-NoDerivatives 4.0 International License